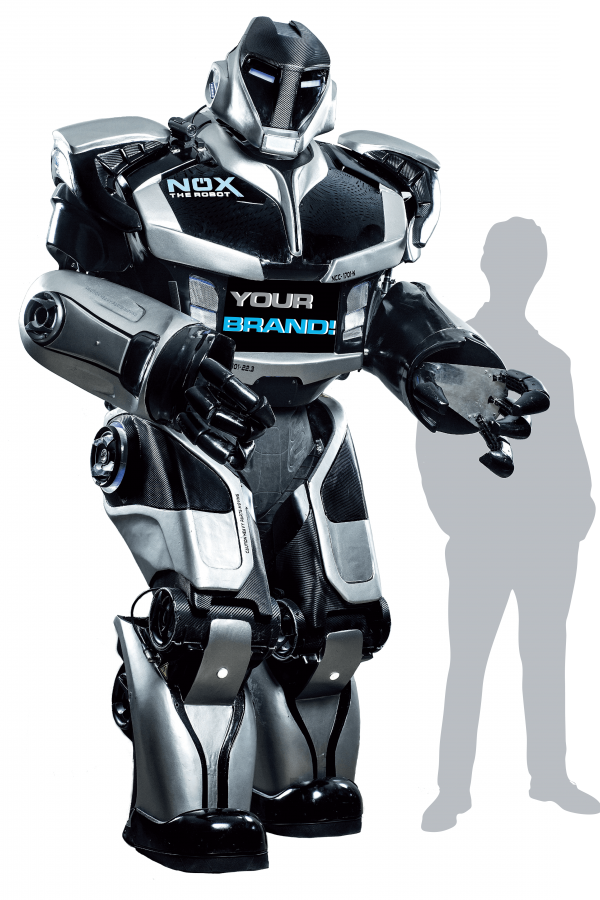 NOX the Robot
The mechatronic entertainer –
Offer your guests an unprecedented show
With its 2.40 m, NOX the Robot attracts all attention in its appearances and is widely visible even in large crowds.
After the countdown to the activation, he takes a determined approach to the audience, dances and interacts with the audience. An integrated speaker system with additional boxes attached to the electric cart allows sufficient sound reinforcement even in a large audience. NOX is able to entertain guests in any language, according to customer's wishes. For this purpose sound files in studio quality are used.
In order to provide the enormous energy requirement, we are using a high-current lithium ferrum phosphate battery system, as is used in modern hybrid and electric vehicles. The maximum operating time is currently approx. 25 minutes.
RGB LEDs are integrated to illuminate the body in the desired color.
A monitor on the chest allows for individual branding.
He is the perfect show act, especially on the topics of "Future, Innovation and Digitization".
Your advantage
The presentation and communication potential of NOX the Robot provides live marketing opportunities with added value: NOX the Robot embodies a technological advancement convincingly, making it the ideal advertising platform for all those who want to present their target groups as safe in the future – ahead of their time and their competitors.
The surprise effect for your exhibition appearance
Let innovation and digitization become reality and link marketing and entertainment in a unique way. Before and on your stand, NOX presents your products, attracts visitors as a magnet and creates a "talkabout", which makes it easier for your employees to enter into a customer conversation. At the nodal points of the exhibition center, NOX will promote your company with your logo on his chest and will be your number 1 for the trade fair.
4 shows spread over the day ensure a targeted visitor flow and simplified customer acquisition. And by the way, your logo on NOX's chest ensures an incomparable viral marketing effect, as the visitors can not be taken to shoot a photo with the 2.40 m colossus.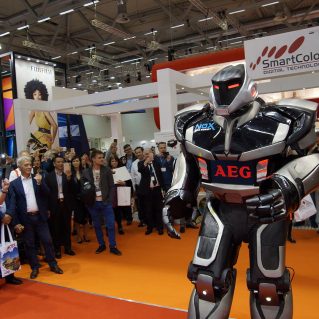 Put your company in the center!
We work out an individual program for your trade fair presence:
1. NOX presents your company and product innovations in a unique way
2. A speech can be taken professionally according to your wishes
3. Your Mechatronic Entertainer will guide you through your stand and welcome your guests
4. It appears in your corporate design, radiates in your colors and carries your logo on its display
The moderator at your congress
Already at the beginning, NOX welcomes your guests as a statue at the entrance and as a co-moderator on stage.
At the height of your congress, NOX will act as a show act and will entertain the guests by communicating with you, interacting and delivering a unique robot show.
Take advantage of the opportunity and allow innovation to be experienced by your visitors, as NOX offers digitalization.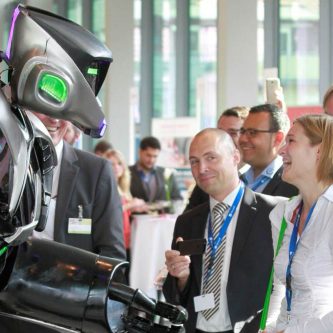 Decide it!
We work out an individual program for your congress:
1. NOX presents your company in an unprecedented way
2. As a mechatronic entertainer welcomes your guests already at the entrance of your location
3. Monologues and dialogues for a stage interaction can be professionally recorded according to your wishes
4. It appears in your corporate design, radiates in your colors and carries your logo on its display
The highlight on your event
As a unique and unmistakable highlight, NOX will appear at your event and attract the attention of the guests.
With 3 shows, the robot maintains your visitors at your event and communicates and interacts with young and old; During his shows, he flirts with the women, splashing laughing children and makes the male sex puzzling over the technique. At the same time, he creates a unique marketing and entertainment world and provides an incomparable emotional marketing effect.
A photo shoot at the end of each show will give your visitors the opportunity to capture the visual image and your logo on NOX's chest provides a unique viral marketing effect.
Whether customers, families or employees, NOX has so far conjured a smile on everyone's face.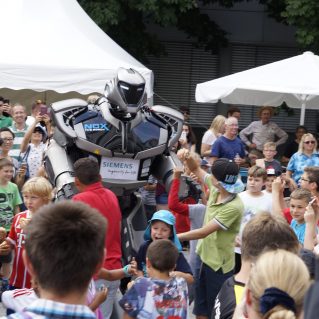 Create your own highlight!

1. NOX maintains your guests in an unseen way
2. Individual language programming according to your wishes
3. A photo shoot at the end of each show provides an incomparable viral marketing effect
4. It appears in your corporate design, radiates in your colors and carries your logo on its display